The "Artist Fellows" creates, researches and develops new artistic expressions that inspire the world from Tokyo. Selected Fellows are supported with production costs, provision of space and equipment, advice from specialist mentors, etc., enabling them to materialize their projects, ready to be unveiled in the city. Together, the Fellows also work to shape CCBT by conducting workshops and speaking at lectures.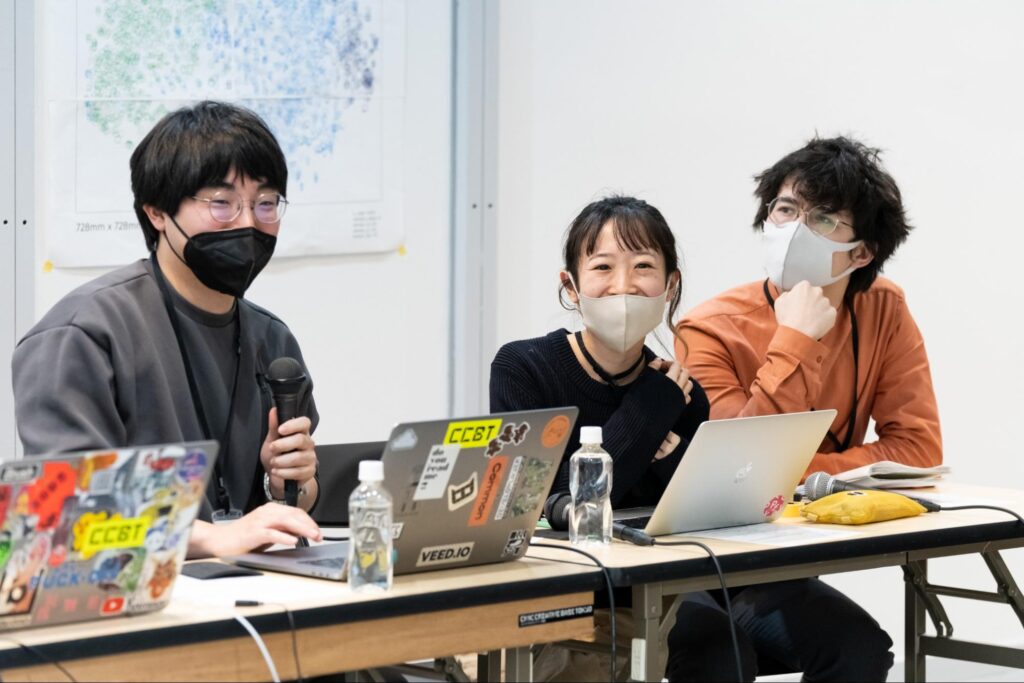 With "play" as their core theme, the team of Tomo Kihara and Playfool (Daniel and Saki Coppen) have been designing tools that foster creativity, and developing art projects that intervene in society and the city, both in Japan and abroad. Through playing a game in which motifs were drawn to be recognizable to humans but not AI, they developed a project that explored how AI perceives the world, and presented this through workshops and exhibitions. The mentors in charge of the project were Takayuki Ito (R&D Director, Yamaguchi Center for Arts and Media [YCAM]) and Asami Hosokawa (general manager, Sapporo International Art Festival Executive Committee Secretariat).
The progress presentation at CCBT began with a demonstration of what had been developed for the Deviation Game at that point. Kihara projected the game screen and began to draw abstract lines.
The rules were simple: guess "what is drawn" before the AI can guess the correct answer. Though the audience gave various answers to the question, it took some time to arrive at the correct answer. It seems it was truly a game of imagination between AI and humans. The experience was fun, with pop visuals and lots of laughs.
From Imitation to Deviation
This project originally referenced the "Imitation Game", which mathematician, Alan Turing, (1912-1954/UK) proposed in 1950 as an artificial intelligence (AI) that mimics human intelligence. As of 2022, with AI evolving at a remarkable pace, AI that mimics humans is already becoming the norm.
It was against the backdrop of these times that the "Deviation Game" was born. Through various events, such as workshops, exhibitions, and talks, the goal was to work with AI to deviate from the past, rather than imitate the past.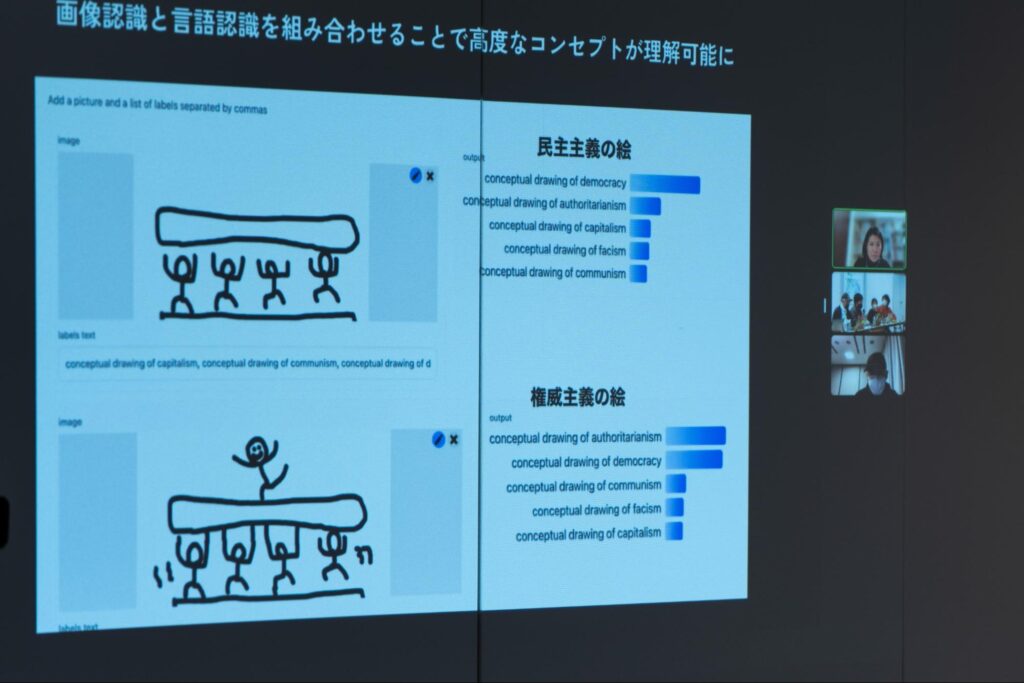 The game was improved upon after interviews with mentors, play-testing at a Dutch game meetup, and play-testing at CCBT from the start of the planning stage. The CCBT lab served as the team's base while they planned the exhibition of "Deviation Game ver 1.0", which took place in March.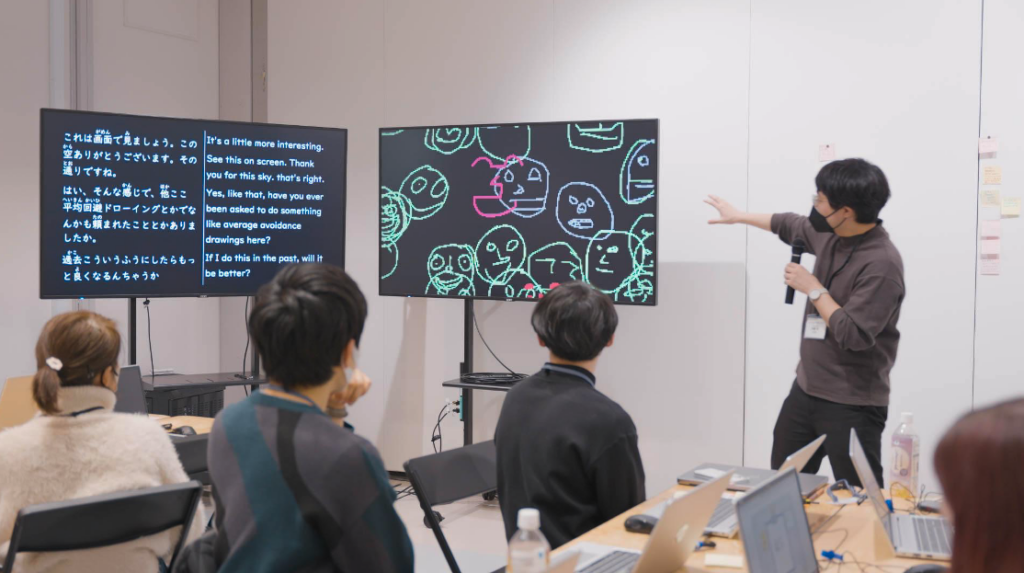 During the interviews, artists and their mentors exchanged opinions such as, "the casual atmosphere allowed me to play the game while grasping the context; it's a big step forward," and "there is an aspect to AI that does scare us, but it is important to understand what it means and why it is scary".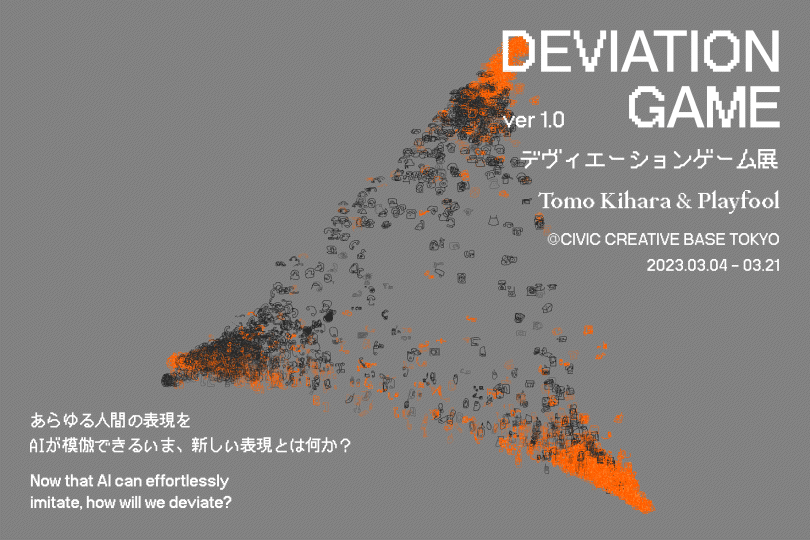 Tomo Kihara + Playfool「Deviation Game ver 1.0」
Dates: March 4 (Sat) – 21 (Tue), 2023 1:00 pm -7:00 pm ※Closed on Mondays
Venue: Civic Creative Base Tokyo [CCBT] STUDIO A
Organizers: Tokyo Metropolitan Government, Tokyo Metropolitan Foundation for History and Culture
https://deviationgame.com/